By Rick Pearcey • March 23, 2009, 07:43 AM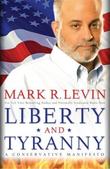 Thomas Lifson writes at American Thinker:
Mark Levin's new book, published today, is essential reading. It is a remarkable work on several different levels. It takes no degree of clairvoyance to predict that it will become an enormous best seller and very soon begin to influence the national political debate.
Liberty and Tyranny artfully presents a harmonious marriage of the timeless with the timely. One the one hand, the book is a thorough yet compact briefing on the major political issues of this era. On the other hand, the author brings to bear the principles of the American Founders and Framers of the Constitution (and the great thinkers who guided them), illustrating, dissecting, and explaining our current political arguments, while enlightening the reader with the genuine wisdom bequeathed to all of us -- the sacred trust of the Founders, embodied in the Declaration of Independence, The Constitution, and Federalist Papers, all of which are quoted and applied with insight and precision.
Why buy, read, and apply this book? "If you care passionately about America," Lifson writes, "and worry for its future -- and who doesn't, given the current national leadership? -- then you owe it yourself to buy and devour this marvelous work. It is an essential antidote to what ails America at the moment."