By Rick Pearcey • April 4, 2009, 10:15 AM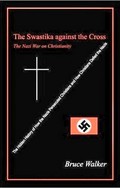 Herbert E. Meyer writes in American Thinker on The Swastika Against the Cross, by Bruce Walker:
In The Swastika Against the Cross, Bruce Walker skillfully pulls together a huge amount of evidence to illuminate the great lesson of the twentieth century: Crazy, vicious people sometimes get political power, and when they tell you what they're going to do with that power -- believe them. Today, as North Korea fuels that missile on its launch pad and as the lunatics in Iran build nuclear bombs, it's a lesson we need to learn -- fast.
Yes, the Nazis hated Christians and Christianity, perhaps just as much as do liberal statists today throwing stones from entrenched positions in Hollywood, academia, media, and Washington, D.C.
Thus the secularist war against the Creator, the smooth lip service given to the Declaration, and the audacious manipulation of the Constitution. Thus abortofascism, homofascism, and Washington-centric fascism, etc., etc. -- all tentacles of tyranny wrapping themselves around "the mind of man" and around the lives of a people endowed by our true Creator with unalienable rights, a free people in a land of slavery who even now are stirring up to reclaim their birthright under God.

We resist, even if tyranny is cool again.