By Rick Pearcey • August 24, 2010, 11:00 AM
We are pleased to release the following press statement for Nancy's new book, Saving Leonardo:
Media Contact: David Fouse
703.494.4902, Fouse@pinkstongroup.com
SAVING LEONARDO

NEW BOOK SOUNDS THE ALARM THAT SECULAR IDEOLOGIES ARE DESTROYING HUMAN DIGNITY AND FREEDOM

Bestselling author Nancy Pearcey issues a call to resist
the secular assault on mind, morals, and meaning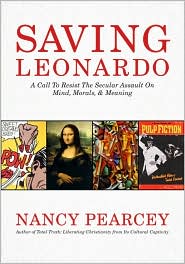 August 24, 2010 -- Politically correct secular doctrines have penetrated every area of our lives. They are in our schools where children are taught that moral standards are matters of personal preference. They are in our politics where marketing and manipulation substitute for rational persuasion. They are in our art, media -- even churches -- where sheer entertainment outweighs real-world truth.
In Saving Leonardo: A Call to Resist the Secular Assault on Mind, Morals, and Meaning, best-selling author Nancy Pearcey, herself a former agnostic, offers an unflinching analysis of the profound personal and social devastation wreaked by secularism all across American life -- from the classroom to the courtroom, from the pulpit to the playground, from the boardroom to the White House.
"Because the word secular is the opposite of religious, many assume that the rise of secularism is a problem for religious groups only," Pearcey says. "Not so. When politics loses its moral dimension, we all lose. When public discourse is debased, the entire society suffers."
In this riveting account, Pearcey exposes the stealth secularism that permeates society through education, media, politics, art, literature, and movies. Saving Leonardo reveals
How the ruling elites use secular strategies to override the will of the American people;

How art, literature, movies, and media channel secular worldviews deeply into people's minds and emotions through stories and images;

How cutting-edge moral issues like abortion, homosexuality, and the hook-up culture are shaped by secular worldviews that denigrate and disrespect the human body;

How two major forces within secularism have created a pincer movement crushing human dignity and liberty.
With more than 100 colorful images from the classical Greeks to Van Gogh, from Camus to Scarlett Johansson, you will "see" secular ideas unfold in fresh and surprising ways.
Finally, Saving Leonardo argues that the best hope lies in a worldview that is rationally defensible, life affirming, and rooted in creation itself. As the Declaration of Independence puts it, human rights are secure only when a society respects them as unalienable givens endowed by the Creator.
In a culture where the center is deconstructed and character is disintegrating, Saving Leonardo offers an inspiring program to recover freedom and dignity -- one that no free-thinking person can afford to ignore.
Praise for Saving Leonardo
"A feast for the mind and the eye" -- Makoto Fujimura, artist, author
"Balanced, fair, impactful" -- Cal Thomas, syndicated columnist, author
"Intellectual prophet" -- J.P. Moreland, philosopher, author of The Question of God
"Astounding" -- James W. Sire, author of The Universe Next Door
"Brilliant" -- Gene Edward Veith, author, Provost, Patrick Henry College
"Unsurpassed" -- Leland Ryken, professor of English, Wheaton College
"May be Nancy's best book yet, and that's saying something" -- David Limbaugh, syndicated columnist, author
Praise for Nancy Pearcey
"One of the most profound writers today" -- Ted Baehr, founder, Movieguide
"A mind like a jewel" -- Lael Arrington, author, Worldproofing Your Kids
"An author of unusual ability" -- Phillip E. Johnson, author, professor emeritus, Berkeley
About the Author
Nancy Pearcey authored
Saving Leonardo
while serving as research professor of Worldview Studies at Philadelphia Biblical University. She is editor at large of
The Pearcey Report
and has authored or contributed to several works, including
The Soul of Science
and
How Now Shall We Live?
Her bestselling book
Total Truth: Liberating Christianity from Its Cultural Captivity
won the 2005 ECPA Gold Medallion award.
About the Book

Release Date: September 1, 2010
Publisher: Broadman and Homan Publishing Group
Price: $26.99 Hardcover
ISBN: 978-1-4336-6927-9